Medoc Wine Tour & Wine Tasting in Pauillac, St Estephe, St Julien & Margaux

Impossible to talk about wine tour Bordeaux without mentioning Medoc Wine Tour. Our clients often ask us which château we're going to visit. Here is a tourist guide of Bordeaux wine tours Médoc wine region, one of the most beautiful wine destinations in France. Bordered by the Gironde estuary, the Médoc is an airy region with incredible architecture. Start from Bordeaux for a Wine Tour Medoc, a wine tour near Pauillac.
Embark for a land of great wines known and recognized throughout the world! Head for the Médoc and its wines of rare quality for this eco-responsible and luxurious tour aboard a Tesla sedan. Comfortably installed, you will enjoy a panoramic view of the Médoc landscape, its vineyards and the exceptional châteaux that line the road: Lafite Rothschild, Mouton Rothschild, Latour, Wine Tour Margaux, Poyferré...
We had a very good time for our Bordeaux private wine tour. We enjoyed a lot our vertical tasting of 3 old vintages at Chateau Gruaud Larose. Their tower gave us a breathtaking view of the Medoc coasts! Great wine tasting margaux too !

Mr Steeve, Canadian tourist in October 2019

What is the program for a day trip to Medoc (Margaux, St Julien, Pauillac)?
———-
Your Elexi driver/guide for a wine tour & wine tasting
Elexi offers you a service of premium transport in Tesla sedans (Model 3, S or X), your private driver for the day will drive you in the Medoc, in St Emilion, Margaux or wherever you decide.

During your tour, you will also go to see the vineyards of St Emilion or Chateau Margaux and you will meet authentic wine growers. Beautiful places to see and photograph for memories that will remain forever.
———-
Our suggestions for visits in Medoc


🍷 Château Gruaud Larose (2nd classified growth in Saint Julien)
Private and guided tour of this famous Médoc winery, its history, its terroir, its wine, its cellars, its vats and its exceptional underground installations. Tasting of the 2 wines of the house. Immersion in this historical reference!
1 hour – €20 / person

Extra: Perfection would be the word that qualifies this 2nd Growth of St Julien

🍷 Château Lascombes (2nd great classified growth Margaux)
Complete private tour of the property, its history and vineyard (one of the splendid vast vineyards of the Classified Growths of 1855), its vat room, its cellars and its collection followed by a tasting of the two wines of the house: Château Lascombes and Chevalier de Lascombes. In the tracks of legendary and noble wines!
1,25 hour – €25 / person

Extra: meet your guide at this emblematic chateau and taste 2 of their wines

🍷 Château Dauzac (5th great classified growth Margaux)
Private visit of the property and its history followed by a wine-chocolate pairing tasting. A sensorial experience not to be missed in the heart of one of the oldest wine estates in the Médoc.
1,5 hours – €26 / person

Extra: wine pairing tasting with world-class amazing chocolate

🍷 Château Marquis de Terme (5th great classified growth Margaux)
Complete and interesting visit of the property during which you will discover the elaboration stages of a great wine. In the heart of the know-how of the house, you will taste the wines of the château and the wine coming out of the vat. A real immersion in the world of the winegrower!
1,5 hours – €25 / person

Extra: wine tasting directly from the vat to understand the wine transformation process

🍷 Château Hourtin-Ducasse (Haut-Medoc)
Private visit of the estate by the owners in person and discovery of conservation farming practices. Barrel tasting of the primeur wine as well as 3 other vintages around a plate of the terroir. An interesting visit in a family estate!
1,5 hours – €18 / person

Extra: individual barrel tasting of the grape varieties and tasting of the blends
———-
Our suggestions for restaurants in Medoc
🍴 Le Cordeillan Bages (1 Michelin star)
At the heart of this Relais Chateau, a €45 meal

🍴 In Saint-Julien, le Saint-Julien
An authentic table and a traditional French cuisine, this is the secret of this beautiful establishment, from €30.

🍴 In Arcins, a small village on the Chateau route, le Lion D'or
On the road to the castles, this address is traditional and simple, a meal at €19.

🍴 In Pauillac, le Café Lavinal
A table in the heart of the village of Bages, pleasant and delicate in front of the Castle.
———-
Our suggestions of incredible experiences
👨‍🍳 Lunch at a chateau
Private lunch at a winery at Château Haut Bages Liberal or Château Kirwan and then visit of the estate : on demand.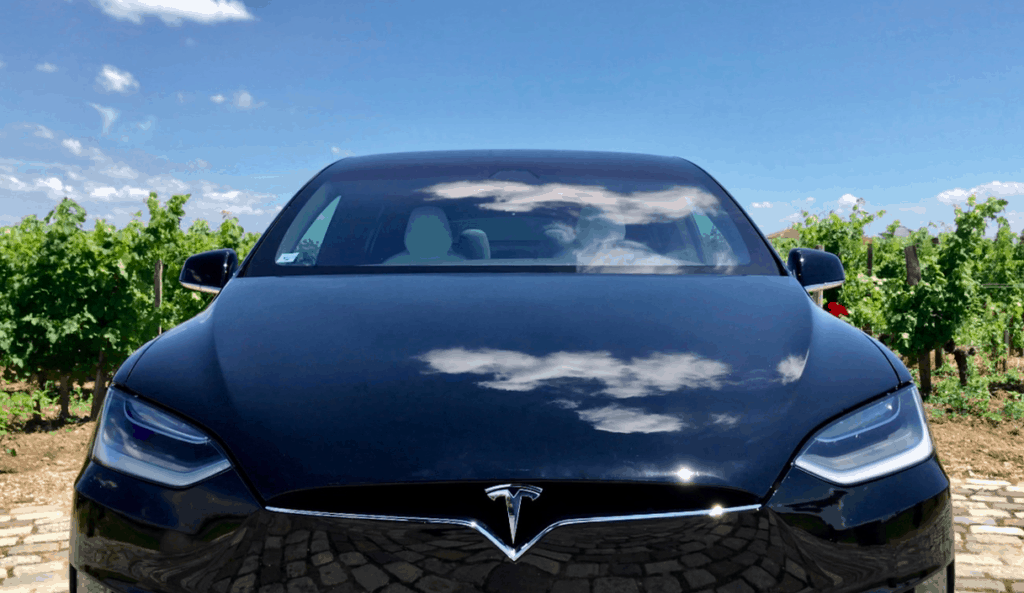 Day trip in Medoc from Bordeaux in Tesla Model 3, S or Model X

Prices for day trip and transfers in Medoc from Bordeaux
A wine tour & wine tasting in Medoc from Bordeaux :
(exclusive of visit, tasting, lunch: estimate €70/person)

From 1 to 4 people: € 400 with 6 hours waiting onsite
From 5 to 6 people: €500 with 6 hours waiting onsite
For group 7+ people: ask for quote
Option : professional guide at €70


Spoken languages: English, French, Spanish, German & Portuguese
Frequently asked questions for a day of tasting in the Medoc
How to go from Bordeaux to Medoc and Pauillac or Margaux for the day?
Take advantage of a door-to-door service from Bordeaux to Medoc, Pauillac or Margaux to avoid stress and for more simplicity, a private driver will bring you in a top-of-the-range Tesla vehicle or a Mercedes van from your hotel or your address in Bordeaux to Medoc area. He will wait for you there to take you back home and to drive you to some chateaux.
Why it is good to have a car service for the day in Saint Emilion?
Medoc is 50 kilometers away from Bordeaux, to get there you can take a bus or a train. However, you will be in the area of Medoc, the chateaux to visit are 10 to 15 kilometers away. A car service is preferable because there is no reliable taxi or Uber service in the area during the day.
Is it possible to do a half-day visit to Margaux in a small group?
Yes!
We offer transfers in a Tesla sedan, ideal for a couple or a family or a small group of people up to 6 passengers. We can, of course, offer other cars for groups of up to 8 or 10 people.
Is there a bus or a train from Bordeaux to Medoc?
Yes, but it is not the solution we recommend.
What is the best way to go to see the vineyards of Medoc from Bordeaux?
With a private driver or a professional guide who drives you from Bordeaux to go to St Julien, Margaux and the Grands Crus Classes and great growth wines.
Can we cancel the Bordeaux Wine Tour?
Cancellation of transfers with Elexi is free up to 1 week before departure, otherwise, we keep 75% of the amount paid.
Any advice for a Wine Tour in Margaux, St Julien and Pauillac and for a Wine Tasting?
Book your visits before your travel in France, ask the professionals some advice,
Our other services to drive you all around France: