Bordeaux Wine Tour & Bordeaux Wine Tasting

Bordeaux is one of the most beautiful destinations in France. Ideally located, this city is incredible, both in terms of its architecture and the people you will meet here. The watchword is bon vivant, we are happy to be in Bordeaux and to live here, and we share that as much as possible!
Embarquez pour un terroir de grands crus connus et reconnus dans le monde entier ! Direction le Médoc, Saint-Emilion, Sauternes et Pessac Leognan pour leurs vins d'une rare qualité.
We were gone into the vineyards of Bordeaux region. We really loved our tour and Camille, our contact prior our arrival, was very helpful. Then we had one private driver for the transfers and a guide during the wine tours and wine tastings. We shared very good moments with him. Thank you!

Mr Steeve, Canadian tourist in October 2019

What is the program for a day trip from Bordeaux Wine Tour?
———-
Your Elexi driver/guide for a wine tour & wine tasting
Elexi offers you a service of premium transport in Tesla sedans (Model 3, S or X), your private driver for the day will drive you in the Medoc, in St Emilion, Margaux or wherever you decide.

During your tour, you will also go to see the vineyards of St Emilion or Chateau Margaux and you will meet authentic wine growers. Beautiful places to see and photograph for memories that will remain forever.
———-
Our suggestions for visits and restaurants
🍷 & 🍴 – Go visit and do a Wine Tour St Emilion
We have made a guide to help you in your research to consult here: Visit suggestions in Saint Emilion

What we love: this constant mix of stone and wine, you will see that St Emilion

🍷 & 🍴 – Other destination around Bordeaux, Medoc is amazing, go to have tasting in Margaux, St Julien and Pauillac
You can read the specific guide of our suggestions: Visit suggestions in Medoc

What we love: this endless succession of the most beautiful castles along the D2: the Chateau Route

🍷 & 🍴 – Un tout autre registre dans le Sauternes & Barsac, là-bas on ne produit que du vins blancs liquoreux
…

Ce qu'on adore : le terroir des grands crus classés nous offre des vins mœlleux d'exception
———-
Our suggestions for a Bordeaux Trip
🛌 Stay in Bordeaux
You will take advantage of our good life spirit in Bordeaux and of the beauty of this City

🚶‍♂️ Walk in the streets of Bordeaux
The quays of Bordeaux are renovated and totally pedestrian, go and discover them on foot (about 6 km).

🍅 Visit and have lunch at Bordeaux markets
Bacalan, Capucins or even Chartrons are all beautiful markets where you can have a nice lunch on the go

🚘 Plan one or two day trips around Bordeaux: in the vineyards for tasting or in Arcachon
Escape from Bordeaux, an hour's drive away, you will find other wonders and think about your private chauffeur.
———-
Make the good choice with private driver in a Tesla sedan
💎 The luxury of a Tesla limo
Such a comfortable vehicle, no jolts, no noise, just the peace and quiet you are looking for on holiday in France.

🌱 Fully electric
Not polluting while you visit our beautiful destination is a good idea that doesn't cost more.

🤵 Someone at your service
For you, make the most of your leisure trip here and leave the rest to your private driver.

⭐️ One of the top excellent services
Reliable, excellent and hassle-free, Elexi's VIP services are there for our passengers and nothing else.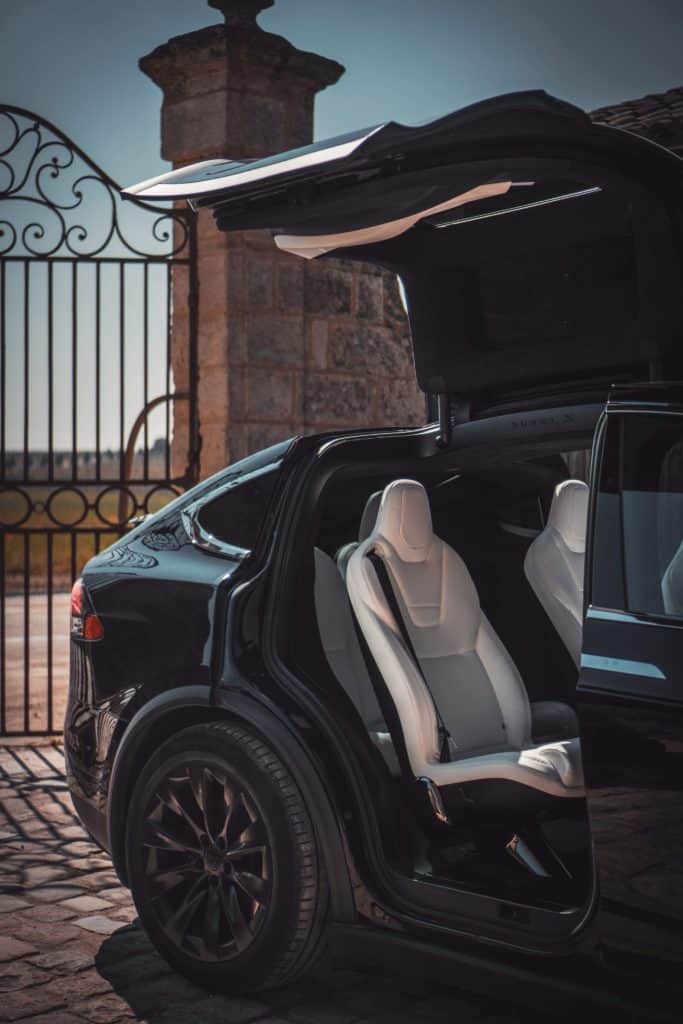 Day trip for Bordeaux Wine Tourfrom Bordeaux in a Tesla Model 3, S or Model X
The comfort of a Tesla or a Tesla Model X is perfect for a Wine Tour around Bordeaux. Very bright, you will feel like you are outside.

Prices for transfers from Bordeaux for a touristic day trip
A wine tour & wine tasting around Bordeaux and from Bordeaux :
(exclusive of visit, tasting, lunch: estimate €70/person)

From 1 to 4 people: starting at € 400
From 5 to 6 people: starting at €500
For group 7+ people: ask for quote
Option: professional guide at €70


Spoken languages: English, French, Spanish, German & Portuguese
Frequently Asked Questions for a Bordeaux Wine Tour
How to go from Bordeaux to Medoc and Pauillac or Margaux for the day?
Take advantage of a door-to-door service from Bordeaux to wherever you want to go around. Avoiding stress and for more simplicity, a private driver will bring you in a top-of-the-range Tesla vehicle or a Mercedes van from your hotel or your address in Bordeaux to your destinations. He will wait for you there to take you back home and to drive you to some chateaux.
Why do you need a car service for your Bordeaux Wine Tours?
Everything is one-hour-drive from Bordeaux, to get there you can take a bus or a train. However, to move into the area around, to go to some chateaux or at Dune du Pilat, you will need a bike or to go by foot… We recommend a door-to-door car service. The cherry on the cake, your driver will drive a Tesla sedan!
Is it possible to do a half-day trip from Bordeaux for a small group?
Yes!
We offer transfers in a Tesla sedan, ideal for a couple, a family or a small group of people up to 6 passengers. We can, of course, offer other cars for groups of up to 8 or 10 people.
What is the best way to go to see the vineyards from Bordeaux?
With a private driver or a professional guide who drives you from Bordeaux to go to St Julien, Margaux, St Emilion, and the Grands Crus Classes.
Can we cancel the Bordeaux Wine Tour?
Cancellation of transfers with Elexi is free up to 1 week before departure, otherwise, we keep 75% of the amount paid.
Any advice for a Bordeaux Wine Tour?
Choose a car service with a Tesla and book your visits before your travel in France, ask the professionals some advice,
Our other services to drive you all around France: