Champagne tour from Paris – A sparkling day trip

Aboard a Tesla, follow in the footsteps of the nectar of kings: champagne! Visit the cellars of Champagne, Reims and the region, its stories and legends, the local gastronomy... Discover the grands crus or the more intimate estates of the Montagne de Reims, the Vallee de la Marne or the Cote des Blancs...
Find our suggestions for visits to these emblematic champagne routes that we suggest you discover aboard a modern, environmentally friendly and comfortable vehicle that will offer you a panoramic view of the region and its internationally renowned houses.
The champagne is mainly a blend of grape varieties (Chardonnay, Pinot Noir and Meunier), crus (from the communes of Montagne de Reims, Vallee de la Marne, Cote des Blancs) and from different years.
It is this diversity that we wanted to put forward in our suggestions in order to help you discover the complexity and extent of the aromas of Champagne during your Champagne Tour.
Amazing tour with this Tesla X Model!! My sister and I were like princesses!!!

Marta & Clara, Austalian tourists in November 2019

What is the program for a day trip to Champagne Tour from Paris?
———-
Your Elexi driver/guide for a wine tour & wine tasting
Elexi vous propose une prestation de transports premium en Tesla, votre chauffeur privé pour la journée vous conduira en Champagne, dans les belles maisons productrices et dans les plus beaux châteaux.

Un chauffeur discret et à votre écoute pour vous accompagner toute la journée.
———-
Our suggestions for visits for a day trip in Champagne from Paris
🍾 Maison Mumm
Visit the property, a historic house with an avant-garde spirit. The motto of the house, "only the best" is full of promise for these champagnes whose vintages are mainly located on the Montagne de Reims, the Cote des Blancs and in the Marne valley . Discover its know-how and its manufacturing secrets. Meet the men who make this world-renowned champagne!
1h30 - €29 / person

What we love: a unique sensory experience accompanied by the tasting of a legendary vintage, Cordon Rouge!

🍾 Maison Ruinart
Visit of the oldest Champagne house and its chalk pits (listed as a Unesco Heritage Site and classified as a Historic Site since 1931): its champagne cellars and their silent and intimate atmosphere. Discovery of a champagne whose vintages come mainly from the Montagne de Reims and the Côte des Blancs. Terroirs with a high chalk content. Commented tasting of two vintages.
2h - €70 / person

What we love: a magical visit followed by a tasting that will make you (re)discover the aromatic freshness of chardonnay, the emblematic grape variety of the house!

🍾 Maison Moet et Chandon
Private and complete visit of this house rich of almost three centuries of history. Moet et Chandon is the largest wine estate in Champagne with vineyards located in the Montagne de Reims, the Cote des Blancs and the Marne Valley. Discover the historic cellars of this great name of champagne located under 10 to 30 meters of limestone soil, its manufacturing secrets and its commitment to sustainable viticulture. Tasting of two of the house's renowned champagnes.
1h15 – €34 / person

What we love: an unforgettable break in an emblematic place of the region!

🍾 Maison Veuve Clicquot
"Une seule qualité, la toute première", une devise qui laisse présager le meilleur pour cette grande maison. Visite des crayères de cette maison historique du champagne dont le développement a été emmené par Madame Clicquot, "la grande dame de la Champagne" qui à force d'audace, d'exigence et d'intelligence a fait de son nom une marque d'excellence célébrée dans le monde entier. Dégustation d'une cuvée de la Maison.
1h – €30 / person

What we love: discover one of the great names in champagne that has chosen sustainable viticulture.


———-
Where to eat during a tour in Champagne ? Our recommendations of restaurants
🍴 Domaine Les Crayères (2 Michelin stars)
Lunch menu starts at €95

🍴 L'Assiette Champenoise
Lunch menu starts at €120

🍴 Brasserie le Jardin Les Crayères
Le menu midi à partir de 33€

🍴 La Table Kobus
Lunch menu starts at €25
———-
Make the good choice with private driver in a Tesla sedan
💎 The luxury of a Tesla limo
Such a comfortable vehicle, no jolts, no noise, just the peace and quiet you are looking for on holiday in France.

🌱 Fully electric
Not polluting while you visit our beautiful destination is a good idea that doesn't cost more.

🤵 Someone at your service
Pour vous, profitez pleinement de votre voyage de loisirs ici et confiez le reste à votre chauffeur privé.

⭐️ One of the top excellent services
Reliable, excellent and hassle-free, Elexi's VIP services are there for our passengers and nothing else.
———-
Our suggestions for a WOW experience
🥂 Blend your own champagne
After a visit of the whole Maison, J. de Telmont, you will be able to compose your own blend with the help of the cellar master! An unusual experience!
3h30 - €177 / person

👨‍🌾 Slip into the shoes of a winemaker.
Discover the steps and tools useful in the process of making a Champagne wine. You end this adventure with a country aperitif with champagne tasting and local products.
Half-day: €40 / person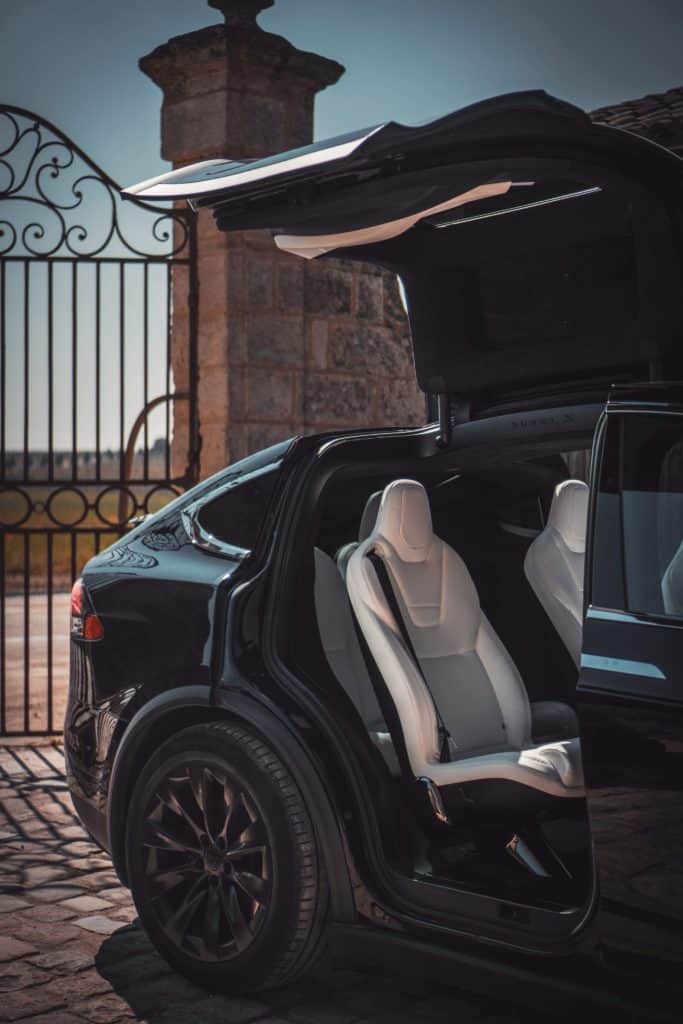 Champagne tours from Paris or Reims in a Tesla Model 3, S or Tesla Model X
The comfort of a Tesla or a Tesla Model X is perfect for a Champagne Tour around Epernay and Reims. Very bright, you will feel like you are outside.

Price for a day trip to Champagne from Paris
A wine tour & wine tasting around Reims and Epernay (Champagne cities) and from Paris :
(exclusive of visit, tasting, lunch: estimate €90/person)

From 1 to 4 people: starting at € 400
From 5 to 6 people: starting at € 500
For group 7+ people: ask for quote
Option: professional guide at €70


Spoken languages: English, French, Spanish, German & Portuguese

Our other suggestions for visits for a day trip in Champagne from Paris
🍾 Maison Nicolas Maillart
Visit of this historic family house, its facilities (modern press, vat room with stainless steel tanks, modern cellars, mechanical riddling, ageing in oak barrels, room with old vintages, disgorging and dressing room, room with old objects related to the trade) followed by a tasting of the house's vintages.
1h15 – €15 / person

What we love: diving into the world of champagne and the vineyards of the Montagne de Reims in this house established for 9 generations!

🍾 Maison Charton-Guillaume
Private visit of this family business, its cellar, the vineyards of the Montagne de Reims... which has chosen sustainable viticulture in its plots. Meet those who make and share their passion, their know-how and their production secrets... Tasting of 3 vintages of the house.
1h30 - €18 / person

What we love: diving into the universe of a champagne composed for 80% of Meunier in this family and passionate house!

🍾 Maison Leclerc-Briant
Private visit of the winery and cellars of this house which was one of the precursors of organic and biodynamic viticulture in Champagne. A family house that cultivates its difference and personality with its champagne whose vintages come from the communes of the Montagne de Reims, the Vallée de la Marne and the Côte des Blancs. Tasting of two vintages.
1h30 – €30 / person

What we love: immersing ourselves in the world of champagne in this family house, where all the vintages are labelled Vegan!

🍾 Maison Vincent Bliard
Private visit of this family home, which comes from a long line of winegrowers and which has chosen organic farming since 1970. Tasting of the house's vintages and their inimitable style! A plunge into the vineyards of the Marne valley.
1h - €10 / person

What we love: meeting winegrowers who have opted for organic farming and discovering Hautvillers, where the Benedictine abbey in which Dom Pérignon developed the Champagne method is located.

Frequently Asked Questions for a Champagne Tour from Paris
What is the easiest way to get to Champagne from Paris for a Champagne Tour?
Take advantage of a door-to-door service from Paris to Reims and the Champagne region. Avoiding stress and for more simplicity, a private driver will bring you in a top-of-the-range Tesla vehicle or a Mercedes van from your hotel or your address in Paris to your day trip in Champagne. Your driver will wait for you there to take you back home and to drive you to some Champagne Houses.
Why do you need a car service for your Champagne Tour from Paris?
Champagne is two-hour-drive from Paris, to get there you can take a bus or a train. However, to move into the area around, to go to some Champagne Houses or at some tastings or restaurants, you will need a bike or to go by foot… We recommend a door-to-door car service in Paris to Champagne. The cherry on the cake, your driver will drive a Tesla sedan!
Is it possible to do a half-day trip from Paris to Champagne for a small group?
Yes!
We offer transfers in a Tesla sedan, ideal for a couple, a family or a small group of people up to 6 passengers. We can, of course, offer other cars for groups of up to 8 or 10 people.
However, due to the driving time, we recommend you spend the day there.
What is the best way to go to see the Champagne vineyards in Epernay from Paris?
With a private driver or a professional guide who drives you from Paris to go to Epernay and Reims.
Can we cancel the Champagne Tour from Paris or Reims?
Cancellation of transfers with Elexi is free up to 1 week before departure, otherwise, we keep 75% of the amount paid.
Any advice for a Champagne Tour from Paris or Reims?
Choose a car service with a Tesla and book your visits before your travel in France, ask the professionals some advice.
Our other services to drive you all around France: